The modern farm was opened on 21 June 2014 and has since been operated as Erlebnishof Fronalp by Swiss Holiday Park. Many native animals, some of them ProSpecieRara breeds, live on the small farm, which is located on our grounds. A highlight are the horse riding offers. All around the horse there are exciting and unforgettable experiences for day and overnight guests. Ideal for riding holidays in Switzerland.
Philosophy - species-appropriate and yet full of exciting experiences At Erlebnishof Fronalp the animals are kept in a species-appropriate manner so that they remain healthy and also have their rest periods. Nevertheless, visitors can experience exciting things here. They are integrated into everyday farm life and children learn in a playful way how a real farm works. They learn where milk comes from, how cheese is produced or how a baby calf is born.
We show you a typical Swiss farm.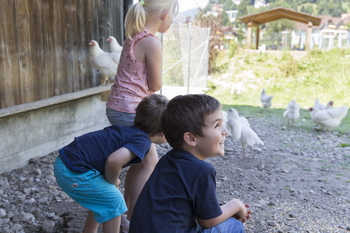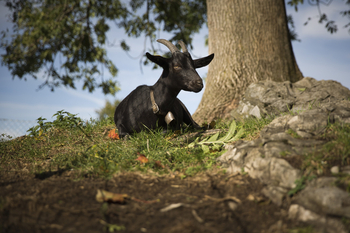 In addition to keeping animals, products are also made at Erlebnishof Fronalp. Yoghurt and cheese are made from fresh milk, spices from fresh herbs.
Individual homemade products are available in the shop.
Recently in the assortment:
Homemade Fronalp spices
You can also buy other homemade products in the shop:
Meadow milk (pasteurised)

Yoghurt

Cheese

Cherry
Feeding of the animals The animals are fed by the farmer. We invite you to watch the feeding.
Farm-Infoweg On the whole area of the Erlebnishof Fronalp there are more than 12 big boards with interesting information about the farm and its animals. Did you know, for example, that a cow drinks up to 100 litres of water a day or that a Swiss person drinks an average of 380 litres of milk a year? Experience this exciting tour and learn more about farming.
Milking At Erlebnishof Fronalp you can watch milking directly in the evening. As a rule, milking takes place from 17.00 - 17.30 hrs. We ask you to be quiet during milking so that the cows are not disturbed by noise.
Calves In addition to the horses and cows, there are also calves in the calf box. The young cows are a magnet for the smallest guests and are on the calf pasture when the weather is nice.
Inclusion in the weekly programme Various activities for families and children around the Erlebnishof Fronalp are included in the weekly programme.
Go for Gold - Farm games made to measure! At Erlebnishof Fronalp our farmer is looking for the best farm helper. Whether it's milking competitions, rolling straw bales or a wheelbarrow ride through an obstacle course, help our farmer and the fun is guaranteed! Make up your own disciplines from a variety of games. Our Meetings & Events department will be happy to put together your personal farm games for you and to organise other social programmes, reservations or other highlights at Swiss Holiday Park.
As a family outing Combine your own farm games at the Swiss Holiday Park. Great fun is guaranteed at Erlebnishof Fronalp.
Children (3-13 years) We are also happy to put together farm games for groups of children and look after your children professionally. If you wish, your child can celebrate its birthday as part of these games and invite as many playmates as it likes.
As a group, club or seminar excursion
How about a change of scenery after an intensive seminar and immerse yourself in the world of the farm? Less than 300 steps from the seminar room, Erlebnishof Fronalp offers wonderful views of the mountain panorama and plenty of space for fun, sports and games.
Disciplines:
Straw bale rolling
Dung scarecrow race
Nailing
Farm questionnaire
Rubber boot target throwing
Stacking logs
Carrying watering cans (on wooden slats)
Throwing horseshoes
Shooting cowbells
Farm boccia
Farm curling
Farm darts
Tree nut cracking (according to season)
Guessing the cherry stone
Spit cherry pond (according to season)
Sack race
Milking
Egg transport
Bookable from 10 persons Three disciplines CHF 40 per person Each additional discipline CHF 10 per person
Horses and ponies