The modern farm was opened on June 21, 2014 and has since been operated as Erlebnishof Fronalp by Swiss Holiday Park. On the small farm, which is located on our premises, live many native animals, some of which are breeds of ProSpecieRara. A highlight are the riding offers. Around the horse there are exciting and unforgettable experiences for day and overnight guests. Ideal for riding vacations in Switzerland.
Philosophy - species-appropriate and yet full of exciting experiences
At Erlebnishof Fronalp, the animals are kept in a species-appropriate manner so that they remain healthy and also have their rest periods. Nevertheless, visitors can experience exciting things here. They are integrated into everyday farm life and children learn in a playful way how a real farm works. They learn where the milk comes from, how cheese is produced or how a baby calf is born.
We show you a typical Swiss farm.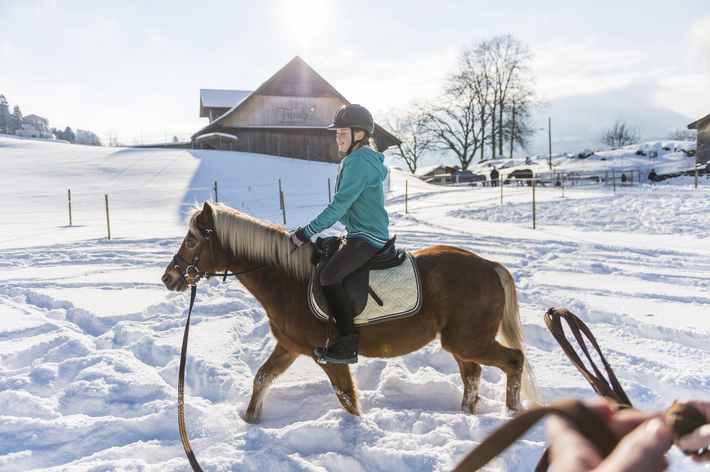 Feeding the animals
The animals are fed by the farmer each time. We invite you to watch the feeding.
Farm-Infoweg
On the whole area of the adventure farm Fronalp there are more than 12 big boards with interesting information about the farm and its animals. Did you know, for example, that a cow drinks up to 100 liters of water a day or that a Swiss person drinks an average of 380 liters of milk a year? Experience this exciting tour and learn more about farming.
Milking
At Erlebnishof Fronalp you can watch milking directly in the evening. As a rule, milking takes place from 16.30 - 17.00 . We ask you to be quiet during milking so that the cows are not disturbed by noise.
Calves
In the barn, in addition to the horses and cows, there are also our calves in the calving pen. The young cows are a magnet for the smallest guests and are on the calf pasture when the weather is nice.
Integration into the weekly program
Various activities for families and children around the Erlebnishof Fronalp are included in the weekly program.
Horses and ponies